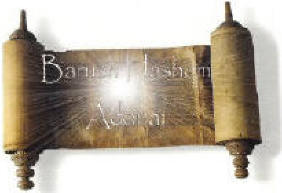 Marriage Supper of the Lamb
Revelation 19:7-9 Let us be glad and rejoice, and give honour to him: for the marriage of the Lamb is come, and his wife hath made herself ready.
And to her was granted that she should be arrayed in fine linen, clean and white: for the fine linen is the righteousness of saints.
And he saith unto me, Write, Blessed are they which are called unto the marriage supper of the Lamb.
Who is the Bridegroom?
יהושע pronounced Yehoshua.
John 1:29 John the Baptist introduced "the Lamb of Elohim, who takes away the sin of the world!"
Who is the Bride?
Those that love יהוה (Yehovah) and יהושע(Yehoshua).
John 14:15 If ye love me, keep my commandments.
John 14:23 Yehoshua answered and said unto him, If a man love me, he will keep my words: and my Father will love him, and we will come unto him, and make our abode with him.
John 15:10 If ye keep my commandments, ye shall abide in my love; even as I have kept my Father's commandments, and abide in his love.
Psalms 119:10-11 With my whole heart have I sought thee: O let me not wander from thy commandments. Thy word have I hid in mine heart, that I might not sin against thee.
Psalms 51:10 Create in me a clean heart, O Elohim; and renew a right spirit within me.
Psalms 37:31 The law of his Elohim is in his heart; none of his steps shall slide.
Psalms 138:1 I will praise thee with my whole heart:
Proverbs 3:5-6 Trust in יהוה with all thine heart; and lean not unto thine own understanding. In all thy ways acknowledge him, and he shall direct thy paths.
Revelation 14:12 Here is the patience of the saints: here are they that keep the commandments of Elohim, and the faith of יהושע (Yehoshua).
Revelation 22:14 Blessed are they that do his commandments, that they may have right to the tree of life, and may enter in through the gates into the city.
Ecclesiastes 12:13-14 Let us hear the conclusion of the whole matter: Fear elohim, and keep his commandments: for this is the whole duty of man. For Elohim shall bring every work into judgment, with every secret thing, whether it be good, or whether it be evil.
John 3:3 Yehoshua answered and said unto him, Verily, verily, I say unto thee, Except a man be born from ἄνωθεν (Greek anōthen - meaning "from above"), he cannot see the kingdom of Elohim.
John 6:35 And Yehoshua said unto them, I am the bread of life: he that cometh to me shall never hunger; and he that believeth on me shall never thirst.
Exodus 20:6 And shewing mercy unto thousands of them that love me, and keep my commandments.
Deuteronomy 6:5-7 And thou shalt love יהוה thy Elohim with all thine heart, and with all thy soul, and with all thy might. And these words, which I command thee this day, shall be in thine heart: And thou shalt teach them diligently unto thy children, and shalt talk of them when thou sittest in thine house, and when thou walkest by the way, and when thou liest down, and when thou risest up.
Luke 10:25-28 And, behold, a certain lawyer stood up, and tempted him, saying, Master, what shall I do to inherit eternal life? He said unto him, What is written in the law? how readest thou? And he answering said, Thou shalt love יהוה thy Elohim with all thy heart, and with all thy soul, and with all thy strength, and with all thy mind; and thy neighbour as thyself. And he said unto him, Thou hast answered right: this do, and thou shalt live.
Acts 2:21 And it shall come to pass, that whosoever shall call on the name of יהוה shall be saved.
Genesis 4:26 And to Seth, to him also there was born a son; and he called his name Enoch: then began men to call upon the name of יהוה.
Psalms 7:10 My defence is of Elohim, which saveth the upright in heart.
Psalms 34:18 יהוה is nigh unto them that are of a broken heart; and saveth such as be of a contrite spirit.
James 1:27 Pure religion and undefiled before Elohim and the Father is this, To visit the fatherless and widows in their affliction, and to keep himself unspotted from the world.
Who is the friend of the Bridegroom?
John the Baptist
John 3:29-30 He that hath the bride is the bridegroom: but the friend of the bridegroom, which standeth and heareth him, rejoiceth greatly because of the bridegroom's voice: this my joy therefore is fulfilled. He must increase, but I must decrease.
Who are the guests of the Bridegroom?
Matthew 22:8-14 Then saith he to his servants, The wedding is ready, but they which were bidden were not worthy. Go ye therefore into the highways, and as many as ye shall find, bid to the marriage. So those servants went out into the highways, and gathered together all as many as they found, both bad and good: and the wedding was furnished with guests. And when the king came in to see the guests, he saw there a man which had not on a wedding garment: And he saith unto him, Friend, how camest thou in hither not having a wedding garment? And he was speechless. Then said the king to the servants, Bind him hand and foot, and take him away, and cast him into outer darkness; there shall be weeping and gnashing of teeth. For many are called, but few are chosen.
Matthew 5:17-19 Think not that I am come to destroy the law, or the prophets: I am not come to destroy, but to fulfill. For verily I say unto you, Till heaven and earth pass, one jot or one tittle shall in no wise pass from the law, till all be fulfilled. Whosoever therefore shall break one of these least commandments, and shall teach men so, he shall be called the least in the kingdom of heaven: but whosoever shall do and teach them, the same shall be called great in the kingdom of heaven.
Revelation 22:12 And, behold, I come quickly; and my reward is with me, to give every man according as his work shall be. I am Aleph and Tav, the beginning and the end, the first and the last. Blessed are they that do his commandments, that they may have right to the tree of life, and may enter in through the gates into the city.
When is the Feast?
Leviticus 23:34 The fifteenth day of this seventh month shall be the feast of Sukkot (tabernacles) for seven days unto יהוה .
Ezekiel 37:26-27 Moreover I will make a covenant of peace with them; it shall be an everlasting covenant with them: and I will place them, and multiply them, and will set my sanctuary in the midst of them for evermore. My Sukkah also shall be with them: yea, I will be their Elohim, and they shall be my people.
Revelation 21:3 And I heard a great voice out of heaven saying, Behold, the Sukkah of Elohim is with men, and he will dwell with them, and they shall be his people, and Elohim himself shall be with them, and be their Elohim.
John 7:37 In the last day, that great day of the feast, Jesus stood and cried, saying, If any man thirst, let him come unto me, and drink.