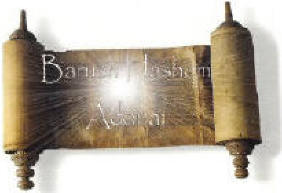 בושאהמשהוהיBaruch Hashem Adonai
ENTER INTO LIFE
Throughout history Yahovah הוֹוָה ( you may have known of him and called him god) has laboured to bring mankind to himself. Yahovah הוֹוָה uses his law as His standard. Israel was reminded of this at Mt Sinai after having left honouring the god of their forefathers Abraham, Isaac, and Israel. The law continues even today to be a schoolmaster, pointing out as it always has of man's need for salvation through the Messiah. Yahovah הוֹוָה has given mankind the opportunity to choose the blessings or the curses that are tied to the Eternal Ten Commandments.
Believers in the Messiah, as well as non-believers, reap the consequences of disobeying Yahovah's immutable LAWS. Unbelievers say that the scriptures are irrelevant, only another book. Supposed believers say the LAW doesn't apply today. They obviously don't believe Elohimís (the Most High) word where says it is eternal , and are selective in what they want to apply to their lives. The scriptures say you reap what you sow and multiplied, at that. Elohim will not let things be added or taken from his word without consequences.
Meanwhile people would rather live under the millions of man-made laws, than follow the few God has made, with not one of his being a detriment to others when followed as prescribed.
What lies ahead for true believers?
We are going to be reminded about some of the facets of our entering into life.
Psalm 1 would be a good place to start.
Psalm 1:1-6 Blessed is the man that walketh not in the counsel of the ungodly, nor standeth in the way of sinners, nor sitteth in the seat of the scornful.
But his delight is in the law of Yahovah; and in his law doth he meditate day and night. And he shall be like a tree planted by the rivers of water, that bringeth forth his fruit in his season; his leaf also shall not wither; and whatsoever he doeth shall prosper.
The ungodly are not so: but are like the chaff which the wind driveth away. Therefore the ungodly shall not stand in the judgment, nor sinners in the congregation of the righteous.
For Yahovah knoweth the way of the righteous: but the way of the ungodly shall perish.
On the way to the garden of Gethsemane, only hours before his death the Saviour makes the point several times about what the righteous would be doing, as recorded by John . "if ye love me keep my commandments,... He that hath my commandments, and keepeth them, he it is that loveth me: and he that loveth me shall be loved of my Father, and I will love him, and will manifest myself to him. John 14:15,21.
The question is, why would the Messiah so close to his death still be telling his disciples how important to him, and his FATHER ,the commandments were, and that of keeping them, if the commandments were being done away with in a few hours at his death , as most religious cults teach today?
Iím going with Yahshua on this one.
We enter into life through the strait gate.
Mathew 7:13-14
Enter ye in at the strait gate : for wide is the gate, and broad is the way, that leadeth to destruction, and many there be which go in thereat: Because strait is the gate, and narrow is the way, which leadeth unto life, and few there be that find it.
John 14:6 Yahshua taught. I am the way, the truth, and the life; no man cometh unto the Father but by Me.
Romans 5:8-10 But Elohim commendeth his love toward us, in that, while we were yet sinners, Messiah died for us. Much more then, being now justified by his blood, we shall be saved from wrath through him. For if, when we were enemies, we were reconciled to Elohim by the death of his Son, much more, being reconciled, we shall be saved by his life.

An important thought in Proverbs 4:23 Keep thy heart with all diligence; for out of it are the issues of life.

How can we keep our heart and enter into life?
Answer:
Psalm 119:11 Thy word have I hid in mine heart, that I might not sin against thee.

1.We enter into life through our confession.
Matthew 10:32 Whosoever therefore shall confess me before men, him will I confess also before my Father which is in heaven.
Romans 10: 9,10 That if thou shalt confess with thy mouth Master Yahshua, and shalt believe in thine heart that elohim hath raised him from the dead, thou shalt be saved. For with the heart man believeth unto righteousness; and with the mouth confession is made unto salvation.
2.We enter into life through our repentance.
Acts 2:38
then Peter said unto them, Ď Repent and be baptized every one of you in the name of Yahshua Messiah for the remission of sins, and ye shall receive the gift of the Spirit. For the promise is unto you, and to your children, and to all that are afar off, even as many as Yahovah our Elohim shall callí.
Many people feel remorse over their sins (in having done them). But are not prepared to repent (to turn away from them).
3.We enter into life through our faith.
Ephesians 2: 8,9
For by grace are ye saved through faith; and that not of yourselves: it is the gift of Elohim: Not of works, lest any man should boast. For we are his workmanship, created in Yahshua Messiah unto good works, which Elohim hath before ordained that we should walk in them.
4.We enter into life through our doing Yahovah our fatherís will.
Matthew 7:21-23
Not every one that saith unto me, Lord, Lord, shall enter into the kingdom of heaven; but he that doeth the will of my Father which is in heaven....
Many will say to me in that day, Lord, have we not prophesied in thy name? and in thy name have cast out devils? and in thy name done many wonderful works? And then will I profess unto them , I never knew you: depart from me, ye that work iniquity.
5.We enter into life through our obedience.
Matthew 19:16-17
Yahshua was asked.
Good Master what good thing shall I do, that I may inherit eternal life?
And he [Yahshua] said unto him ...
'If thou wilt enter into life, keep the commandments.'
Proverbs 11:30
The fruit of the righteous is a tree of life; and he that winneth souls is wise.
Romans 3:24-31
Do we then make void the law through faith? El forbid: yea, we establish the law.

1/ Obedience : is loving Yahovah with all our heart.
Deuteronomy 6:5
And thou shalt love Yahovah thy Elohim with all thine heart, and with all thy soul, and with all thy might.
2/Obedience : means loving Elohimís word.
Psalm 119:165
Great peace have they which love thy law: and nothing shall offend them.
3/ Obedience : means waiting on Yahovah.
Isaiah 40:31
But they that wait upon Yahovah shall renew their strength; they shall mount up with wings as eagles; they shall run, and not be weary; and they shall walk, and not faint.
Proverbs 3:6
In all thy ways acknowledge him, and he shall direct thy paths.
4/Obedience : brings with it knowledge which runs counter to the world.
Proverbs 1:7
The fear of Yahovah is the beginning of knowledge: but fools despise wisdom and instruction.
5/Obedience : brings blessing.
Deuteronomy 30:19,20
I have set before you life and death, blessing and cursing: therefore choose life, that both thou and thy seed may live: That thou mayest love Yahovah thy Elohim, and that thou mayest obey his voice, and that thou mayest cleave unto him: for he is thy life, and the length of thy days.
1Corinthians 2:9
But as it is written, Eye hath not seen, nor ear heard, neither have entered into the heart of man, the things which Elohim hath prepared for them that love him.
6/Obedience : means leaving the results to Yahovah.
Proverbs 16:3
Commit thy works unto Yahovah, and thy thoughts shall be established.
1Kings 2:3
And keep the charge of Yahovah thy Elohim, to walk in his ways, to keep his statutes, and his commandments, and his judgments, and his testimonies, as it is written in the law of Moses, that thou mayest prosper in all that thou doest, and whithersoever thou turnest thyself:
7/Obedience : there is no substitute for it.
Deuteronomy 11:26-28
Behold, I set before you this day a blessing and a curse; A blessing, if ye obey the commandments of Yahovah your Elohim, which I command you this day: And a curse, if ye will not obey the commandments of Yahovah your Elohim,
Exodus 15 : 26
If thou wilt diligently hearken to the voice of Yahovah thy Elohim, and wilt do that which is right in his sight, and wilt give ear to his commandments, and keep all his statutes, I will put none of these diseases upon thee.
2 Chronicles 24:20
Thus saith Elohim, Why transgress ye the commandments of Yahovah, that ye cannot prosper? because ye have forsaken Yahovah, he hath also forsaken you.
8/Obedience: is better than doing things our own way.
1Samuel 15:22
And Samuel said [to Saul], Hath Yahovah as great delight in burnt offerings and sacrifices, as in obeying the voice of Yahovah ? Behold, to obey is better than sacrifice, and to hearken than the fat of rams.
Proverbs 28:13
He that covereth his sins shall not prosper: but whoso confesseth and forsaketh them shall have mercy.
9/Obedience : brings Elohimís prosperity.
Matthew 6:1
Take heed that ye do not your alms before men, to be seen of them: otherwise ye have no reward of your Father which is in heaven. Therefore when thou doest thine alms, do not sound a trumpet before thee, as the hypocrites do in the synagogues and in the streets, that they may have glory of men. Verily I say unto you, They have their reward. But when thou doest alms, let not thy left hand know what thy right hand doeth: That thine alms may be in secret: and thy Father which seeth in secret himself shall reward thee openly.
10/Obedience : means caring about others.
Deuteronomy 6:5 And thou shalt love Yahovah thy Elohim with all thine heart, and with all thy soul, and with all thy might.
Luke 6: 27,28
Love your enemies, bless them that curse you, do good to them that hate you, and pray for them which despitefully use you, and persecute you; That ye may be the children of your Father which is in heaven.
Galatians 6: 10
As we have therefore opportunity, let us do good unto all men, especially unto them who are of the household of faith.
Phillipians 4:1 - 19 Therefore, my brethren dearly beloved and longed for, my joy and crown, so stand fast in Yahovah, my dearly belovedÖ whose names are in the book of life Rejoice in Yahovah always: and again I say, Rejoice. Let your moderation be known unto all men. Yahovah is at hand. Be careful for nothing; but in every thing by prayer and supplication with thanksgiving let your requests be made known unto Elohim.
And the peace of Elohim, which passeth all understanding, shall keep your hearts and minds through Messiah Yahshua.
Finally, brethren, whatsoever things are true, whatsoever things are honest, whatsoever things are just, whatsoever things are pure, whatsoever things are lovely, whatsoever things are of good report; if there be any virtue, and if there be any praise, think on these things.
I have learned, in whatsoever state I am, therewith to be content.
I know both how to be abased, and I know how to abound: every where and in all things I am instructed both to be full and to be hungry, both to abound and to suffer need.
I can do all things through Messiah which strengtheneth me.
Enter into LIFE today!